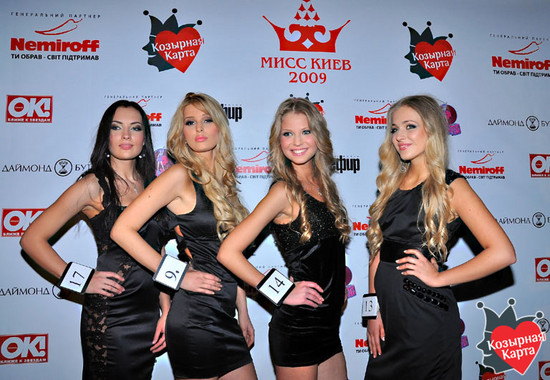 Dating beautiful Ukrainian girls is what most foreigners, registered on various dating websites, wish for. The internet is loaded with articles describing Ukrainian girls as great wives and gentle lovers. Besides, they mostly have the perfect shape and pretty face.

How To Find Girls For Dating In Kiev
Well, the most widespread option to find a girl for dating in Kiev is to make o profile on a trusted dating website. To say the truth, it is the easiest way, especially if you start your search in the US, for example. Besides, dating websites offer a filter which enables users to narrow the search using some keywords. Simply put "Kiev" into the search line and you'll get the list of beautiful single girls from Kiev. Another option is to start chatting (or dating, so to say) with a lady from any Ukrainian city or town. Thus, when you are sure that you want to meet her, you may buy a ticket and arrange your meeting in Kiev. If everything goes great, you will have an opportunity to spend a weekend with your beloved Ukrainian woman and even ask her to stay in your hotel room.
Another possible variant is to work on your existing profile in one or two most popular social network in Ukraine. Nowadays, the vast majority of Ukrainians are registered on Facebook and in Vkontakte, including single Ukrainian ladies from the capital. Make sure that your profile attracts the right people. Thus, if your last post is dated November 2010 or your profile picture is from you 9th grade, it is better to upload some more. She will be 100% interested in how you look like at present. The same is about your interests. Update your timeline. Show that you are a sociable man. And the last, but not the least important thing is to put some details on the matter of relationships you are looking for, or a type of woman you are searching.
Where To Take A Girl Out On A Date In Kiev
Kiev is full of romantic places. The two most important things a man should possess in order to take a Ukrainian lady on a perfect date are creativity and attentiveness. What I mean is you should listen (or read) attentively enough while chatting or talking with your Ukrainian girl in order to get to know what she likes and what kind of leisure she prefers. IT would be also great if you take her somewhere you both have never been before.
Consider taking her to the highest point in Kiev, the Mother Motherland monument. Thus, both of you will be able to get a bird's-eye view of the capital of Ukraine. Besides, the adrenaline you'll experience will make your day unforgettable.
Another interesting idea is ballooning. Such date is an expensive pleasure for an average Ukrainian man. However, it is affordable for a foreigner ($130 – 330 approximately). Some companies, which organize these flights, offer fruits and Champaign during the flight. Thus, you will get a chance to talk with your Ukrainian girl in a romantic and intimate atmosphere, not to mention stunning sceneries of Kiev and its region.
By the way, if you want to make sure that your girl is really interested in you, and not in your wallet, then you can arrange a date at the Baikove cemetery. This option will definitely surprise your girl. At the Baikove cemetery, you can take a walk along the avenues, have a talk on a bench, and even look for the famous people's graves. For instance, famous historian Hrushevsky, actors Leonid Bykov and Maria Zankovetskaya, artist George Narbut, writers Boris Grinchenko, Zagrebel'nyi, as well as a famous surgeon Nikolai Amosov are buried there. You can also check how much does your mate know about her motherland and its famous people.
How To Pick Up A Girl In Kiev
If you think that visiting a nightclub in Kiev will attract dozens of beautiful and single Ukrainian girls, it is not that easy. The hookup culture in Ukrainian night clubs is almost dead. Of course, right after the collapse of the Soviet Union, it was enough for a foreigner to offer a drink and the Ukrainian lady is ready to marry you and go abroad with you, hoping to start a happy life there. Nowadays, it is not that easy to pick up a girl from Kiev, especially if your intention is to spend a night with her. However, you will easily meet a small-town girl, who actually came to the capital because of the great variety of opportunities, and spend a night with her after a date or two. In case if you are into serious relationships, both Kievan girls and small-town ones may be interested in what you can suggest.
The approaches to pick up a girl in Kiev vary, as well as the girls themselves. The common thing for all Ukrainian girls is they enjoy surprises, small presents, and attention. So, if you want to succeed you need to impress her.
How To Impress A Girl In Kiev
Considering the fact that we have already mentioned some places you may take a Ukrainian girl on a date in Kiev, let's talk about presents and small surprises. Well, there are different ways. Actually, they mostly depend on the amount of money you are ready to spend.
If you do not want to spend money at all, but you need to impress her somehow, consider your behavior. Ukrainian girls fall in love through their ears, so it should not be difficult for you to impress her with a couple of compliments. The key thing here is to do it correctly. Be yourself. Your compliments should be based on things your girl knows she is best at. For instance, say that she is smart if you see that she is smart and that she is aware of it.
Another option is to impress a girl in Kiev with a present. Nowadays, with the currency rate, it should not be a problem to buy a good present for a girl in Kiev. Keep in mind that it should be creative and remind you when you will be far from her. You may buy a small piece of land in Kiev or outside it with beautiful scenery and take her on a picnic there. If the season is cold it will be enough to show her the place and say that the next time you will visit her you will have a romantic picnic there. Say your girl that it will be your romantic place to meet at (and no one will know about it, except you two). Make a hint and tell her that over some time you may build a cottage there and live a happy life together (if you are really that serious about her).
How To Seduce A Girl In Kiev
To be honest the easiest way to seduce a girl in Kiev is to arrange a romantic dinner and suggest her to have a drink in your hotel room, saying that you did not plan to stay for long this time in Ukraine, but you really want to spend as much time with her as possible.
But again, everything depends on your intentions. If all you want is to spend a night with a girl in Kiev, it will be not difficult to find the one who will be crazy for wealthy foreigners. Rent an expensive car and ask if she is from Kiev or some other place. Thus, your chances to find a girl to spend a night with in Kiev will grow to 98%. For instance, try to impress a waitress in a fashionable restraint in Kiev.
However, if you are looking for serious relationships, you should be more attentive and sincere (this is a key factor). Convince her that you are a smart, confident and attentive man and that your intentions are serious. In most cases, girls will share your interest in sex, if she really likes you, of course. Simply be yourself and do not lie her.
Another idea for those who want to seduce a girl in Kiev is to add some water to your date. Think about taking her to a spa, for example. They have various services that will help both of you to relax. Besides, your date may end up in an intimate atmosphere in a hot tub or a swimming pool for two.
General Phrases For Dating In Kiev
What you will need dating a girl in Kiev is learning some native phrases. First of all, it will be really sweet if you address your girl in her native language. You may use the following words for this purpose: darling (dorogaia), sunshine (solnyshko), little fish (rybka), bunny (zaichik), sweety (milaia).
Next, it would be great for you to use some invitational phrases like How about we go straight to my place (A mozhet priamo ko mnie domoi) or How about stopping by a café for a cup of coffee (Mozhet, zaidiom v kafe, popiom kofie).Do not forget to use Thank you (Spasibo) and Please (Pozhaluista) as well. Dating girls in Kiev is exciting, especially if you know what you are doing and prepare everything in advance. So, add the above-mentioned tips to your armory and have a great time in Kiev.
What Flowers To Choose For Kiev Girls
If you do not know what to choose exactly, then take season flowers (when they blossom) or just a beautiful bouquet, the one that you like. After all, the sense of the beauty of many people is not so different. However, note that roses can play a dirty trick on you. If a girl had already a million dates and the same number of scarlet roses, then she might lose interest in you. You should better prepare in advance by asking suggestive questions. And if you want to be original, then tell her, "What kind of flowers do you like? I'll buy them on our date to show my intentions, to feel like a gentleman and make an impression on you." You think that this sounds awkward? If a girl has a good sense of humor and irony, then she will like this approach (it is checked).
Finally, do not forget that according to the etiquette, you should keep the flowers in the left hand, after the greeting, take the bouquet with the right hand and then give them to the girl. If the package is not a part of the composition, then it needs to be removed in the room. You will say that this is again a stupid tradition, however, this is not the case. This shows that you take the matter seriously and you know about the rules. If the girl knows about them, then this will play into your hands.
What Unusual Surprise To Choose For Girls In Kiev
Beautiful photos are always a good idea, especially if there is a place to take pictures. If a girl knows a lot about a stylish photo shoot or just wants to make some beautiful romantic pictures for a long time, then you just have to organize such pleasure for her, considering that it's very easy to do. To make your gift look thoughtful, it is not enough just to bring a camera and allow your Kiev girl to take pictures. It's much better to take her to a photo studio, where everything is done professionally for such an event. Quality light, beautiful furniture, stylish entourage and the opportunity to change clothes, makeup and just relax. The photoshoot will be conducted by a professional photographer, using high-quality equipment, and you will have only to enjoy this leisure with your amazing Kiev girl.
What Right Flirting With Girls From Kiev Looks Like
Each guy can have his own style of flirting. However, most styles do not work, especially in picking up girls in Kiev. If you visit Kiev nightclubs, you probably saw a primitive attempt to seduce a girl by using pressure on her. If the girl is well-bred, she will respond politely, trying to escape somehow from the conversation or leave this nightclub at all. If the girl is feisty, then she will simply tell a guy to take a long walk. In any case, if you press on the girl, then you have almost no chances. So, show restraint. For example, do not touch a girl at first minutes of conversation. A positive sign is the position of the girl's thighs. If she puts them next to yours, then everything is fine. If the girl, on the contrary, tries to take them away from you, it means that she worries.
Touch the girl gradually only if there are visual signals from her side. If the girl does not reciprocate, then she does not want to do that. By the way, if you like to use humor in flirting, then carefully watch her interest. It's easy to insult a girl with a joke, even with a very funny one. Your flirting should be gradual, it should illustrate you as a person with whom she will want to spend her time absolutely naked, and not as a narrow-minded man who knows neither measure nor a good sense of humor. A gentleman is interested in the comfort of his girlfriend when she communicates with him. Gradual flirting helps create sexual tension if you do everything right.