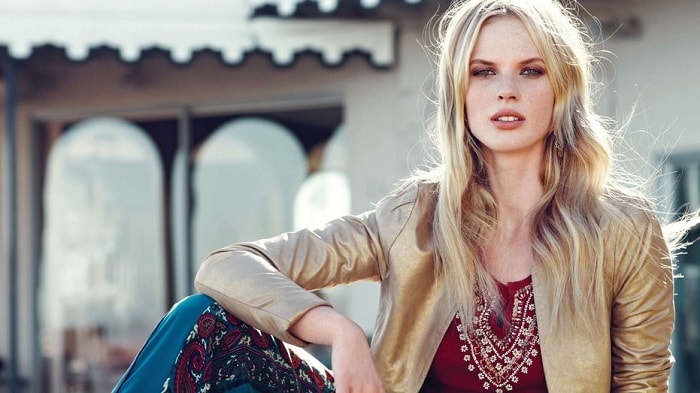 It's not easy to get into the modeling business, and it's even harder to become famous and popular. But some Slavic ladies managed to do this, successfully mastering this tough profession. The peculiar beauty and charm of these girls are known all over the world. The faces of Russian Instagram models won the hearts of millions of followers, and even the most famous designers and photographers dream of working with them; their incomes are simply unthinkable. Well, maybe Russian models are not the most highly paid ones in this business, but they make their presence in the global advertising market felt. Today, we'll show you ten hot Russian models that conquered international podiums.
15) Tatyana Kovyulina
When she was a young girl, she won the "Elite Model Look Tatarstan." Her beautiful face appeared on the cover of the different magazines. She took part in the show of the Russian duet "Tata-Naka" in London, "Imitation of Christ" in New York. Russian models aren't used to give up, and despite all the troubles, the year 2004 was her successful. Tatyana was invited by a huge number of different fashion houses. This beautiful Russian model became the face of some famous trademarks, like Calvin Klein Jeans, Cole Haan. Besides, she engaged in the show of "Victoria's Secret." Do you know that many hot famous models are not only beautiful but also smart? For example, Tatyana bought 3 Latvian companies specializing in alcohol trade and took 159th place in the list of foreign investors.
14) Daria Strokous
Some people believe that this Russian female model looks like young Uma Thurman. One of the famous model agencies noticed her at the age of 17. You can find this charming lady on the pages the most significant magazines, like Italian Vogue. Daria engaged in the new project of online magazine Nomenusquarterly, created by Eric Madigan Heck. She is one of the hottest and sought-after Russian models.
13) Sasha Luss
This fabulous girl was born in Magadan. In the childhood, she was engaged in ballet, participated in various dance competitions, where she was offered to try herself in the modeling business. Her career began in the young fifteen years in the famous model agency Avant Models. The first major event was the show of spring-summer collection by Alena Ahmadullina. Designers one by one invited her to the shows, her amazing alien appearance captivated absolutely everyone. In 2012, the model was shot for the catalog of Bohemique. The photos were included in the catalog of the brand and Karl Lagerfeld noticed them, he invited the model to take part in the Chanel show. She was involved in the shooting for the cover of  Vogue Italia in celebration of the 50th anniversary of the magazine. Many are wondering what is the secret of this girl's success. She says that it's all about her credo, "You should always smile. It does not matter what happens around, how hard it is for you and how much you want to sleep, you need to smile and only then you will succeed."
12) Polina Kuklina
First, she was a model of a small French agency "Idol", although there were no contracts. The Russian magazine "Elle" published photographs of Russian fashion, where Polina had taken part. By sheer luck, a scout of model agency saw her and made a good offer. Polina signed a contract with the agency "Take2" and started conquering the podium of Europe. This amazing girl became the face of "Miu Miu", as well as "Stella McCartney", "Prada." Ben Hassett admired her beauty and his photos brought her fame, so, many magazines became interested in her. Polina appeared in the magazine series more than 25 times. She engaged in the fashion weeks in Paris, New York, Milan, and London. Are Russian models hot? Polina Kuklina and other Russian models have proved the fashion world that they are one of the best and everyone wants to date hot Russians.
11) Katya Grigorieva
Katya is an incredibly beautiful Russian model, who managed to achieve impressive heights in the modeling business in a very short time. It is worth noting that the girl was the first and so far the only model from Russia who became one of the Victoria's Secret Angels.
In 2014, Katya debuted at high fashion shows in New York, presenting the brand Donna Karan. After that, the girl got a lot of invitations, among which were such famous brands as Versace, D&G, Oscar de la Renta, Givenchy, Gucci and other equally well-known brands.
10) Natalya Vodyanova
Today, this popular Russian top model is not only one of the most noticeable persons in modeling business but also a beautiful mother, a caring wife, and the founder of the Naked Heart Foundation. And it all started like a fairy tale. Natasha was selling fruits on the local market when a representative of the modeling agency spotted her. He offered her to go to Paris, and she agreed almost without hesitation. And she barely turned 17 at that moment! In the country of love, Natalia met her prince and soon gave birth to her first child, but she continued her career and became a real star. By the way, Vodyanova's husband was Lord Justin Portman, an aristocrat billionaire, and the model gave him three wonderful children. Today this Slavic beauty doesn't appear on the podiums; she actively helps low-income families.
9) Vlada Roslyakova
Vlada comes from the Russian city of Omsk, and her real name is Elena. But today she conquers the world's podiums and is known as Vlada. Her agent advised her to change her name at the very beginning of the girl's career. At first, Roslyakova conquered Japan, a country that loves girls with cute teenage appearance. And then Vlada went on and began appearing on the podiums in New York. A little later almost the entire model world was at her feet. Today Roslyakova is among the top 30 world's most popular models. Besides, she managed to work with such well-known international brands as Dolce & Gabbana, Karl Lagerfeld, Giorgio Armani, Givenchy, Valentino, Burberry, Nina Ricci, Hermes, DKNY, Prada, and YSL. Vlada is known for her appearance that got her a catchy nickname – Russian doll.
8) Irina Shayk
Today this name is heard by everyone, but not so long ago Irina was an ordinary girl. Irina's real last name is Shaikhlislamova. As Irina claims, she never thought about the modeling career and signed up for the modeling agency just out of interest. Accidents are not accidental, so Shayk got noticed. Today she is considered one of the sexiest Russian female models, posing for the most popular magazines; she is the face of the most famous brands and works with the best photographers. Famous footballer Cristiano Ronaldo and actor Bradley Cooper couldn't resist the beauty of this girl.
7) Sasha Pivovarova
Sasha has a very unusual appearance and, just like Irina Shayk, never even thought about the modeling business. She loved to draw and dreamed of associating her life with art. But her life made a huge twist. During her studies, she met a photographer and her future husband, Igor Vishnyakov, who decided to send this Russian model's pics to the contest. Sasha was noticed and offered to work as a model. She dropped the university. Sasha is a strict vegetarian and doesn't drink alcohol at all. And this is what the girl herself thinks helps her to succeed. By the way, Pivovarova is the only model that opened Prada's fashion show six times.
6) Anne Vyalitsyna
Anne Vyalitsyna, who was immediately nicknamed the Russian Princess, became successful almost at the very beginning of her career. She won one of the local beauty contests and went to Paris. Anne didn't have to look for a job, as agents from major brands found her themselves. She was noticed by many popular brands that made Anne famous. But the real glory came to this girl after she became the face of Chanel. And although more than fifteen years have passed since then, Anna still holds the title of Princess that was once assigned to her.
5) Natasha Poly
This beautiful Russian model's real name is Polevshchikova, but it's hard to pronounce, so she decided to use the abridged version as a pseudonym. Natalia was born in Perm, Russia, and her fate was decided by the prestigious competition held by the Milan modeling agency, where she took second place. Poly worked with such famous fashion houses as Yves Saint Laurent, Alexander McQueen, Chanel, Versace, and many others. Besides, the girl was lucky to take part in Victoria's Secret's fashion show (only the most beautiful models had a chance to represent the brand). Natasha was also the face of L'Oreal. Several years ago, she married a Dutch businessman Peter Bakker.
4) Eugenia Volodina
This sexy girl owes her fame to the famous photographer Steven Meisel. It was he who first noticed Eugenia's beauty and became her patron. And it was he who invited her to the photo shoot for Vogue. That's where her career went uphill. Eugenia was invited to fashion houses' shows and took part in the advertising campaign for Gucci; she worked with the most popular designers and became one of the Victoria's Secret's angels four times. By the way, Eugenia, together with Natalia Vodianova and Anna Vyalitsyna, came to the world of fashion in the 2000s and almost toppled those who occupied the podium in the 90's.
3) Valentina Zelyaeva
Valentina is the owner of classical Russian appearance. But it was her looks that probably helped the girl to become famous and successful. At 16, she was noticed by an agent of a fashion house who invited her to participate in a beauty contest. Valya never got into the top three, but she got a job. At first, she worked in Japan, but after conquering the East, she went west. Since then, she has worked with the world's most popular brands; this Russian model's photos appeared on the covers of Vogue more than once. Valentina protects thin models, referring to the fact that their colleagues with excess weight are never criticized, while the girls from the podiums are constantly being attacked with criticism.
2) Anna Selezneva
This beauty worked at McDonald's when she was noticed by one of the scouts from the modeling agency. Anna took part in Dries van Noten and Celine fashion shows and worked with other fashion houses. By the way, Anna didn't attend model school and never mastered any special skills. But her natural charm attracts many photographers. Anna has already achieved some success, but she doesn't want to stop.
1) Svetlana Eregina
This Russian fitness model was born in the city of St. Petersburg. Since early childhood, Sveta was active, dancing and performing on stage. In her teenage years, the girl started visiting the gym. In 2011, Svetlana's coach invited her to see the Russian Fitness Championship. Sveta was delighted with the looks of the girls, who participated in fitness bikini category, and decided that she would definitely take part in such event. And in the autumn of that year, the girl took the third place at the local bodybuilding contest. According to Sveta, fitness is her way of life, and she'll never give it up.