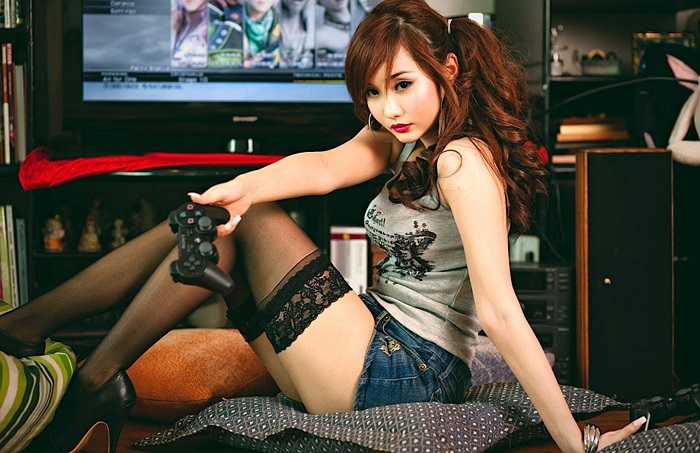 A gamer girl is a dream of any man addicted to games – it would be a lot more enjoyable to spend evenings using AWP middle to bomb enemies from safe spots instead of wandering around shopping malls looking for one more dress or bag. Nevertheless, finding such a girl and winning over her heart requires you to come up with your own unconventional strategy. This is what we'll cover in our article today.
About Gamer Girls
In fact, there are a lot fewer girls who are willing to spend hours in front of the computer than men. Gamer girls compose 20-40% among all girls (depending on their country of residence), whereas there are 60+% gamers among guys.
Obviously, girls usually value their social life more than achieving a new level for their champ. Those who don't fit this rule will be a great companion for you, though, and a gamer girl can always join you for a Hot Seat party.
Gamer Girls' Advantages
There is perhaps no gamer guy who wouldn't like to meet a girl with similar interests. But why exactly would he want to date a gamer girl? The answer is simple – to have both a loved girlfriend and a great friend who would help out during heated online battles. You can discuss the latest wins, wait for the release of a new game, and wonder what developers have been doing because there were no updates for the whole week. Below we gathered four key advantages of having a gamer girlfriend:
She knows the value of alone time. Many of us sometimes need to spend several hours apart from our partners, even if you are crazy in love and happy together. As practice shows, some lovers find it hard to let the partner go hang out with friends. With a gamer girl, this issue is not likely to be a part of your relationship. They know themselves how important it is to spend some time alone or with friends. Besides, gamer girl dating can be a great opportunity to spend more time playing your favorite game without feeling obligated to your girlfriend.
She is more intelligent than average. As a rule, gamers are smarter than non-gamers. This can be explained by the fact that video games often demand sharp mind, well-developed logical thinking and the ability to solve puzzles fast from gamers. They also require gamers to be able to concentrate on solving the task, observe and memorize details.
You can join and play with her. Instead of trying to distract you from gaming to draw attention to herself, a gamer girl will join you with pleasure. You may not even need to take her out and hang out with her friends – chances are high she doesn't like doing that as well. So, if you like to spend several hours a day gaming, you should definitely find your pair among gamers.
You know what gift to choose for her. Dating a gamer girl means that she will be fascinated by any gift related to modern technologies. So, you can always give her the latest gaming armchair, sophisticated console, or a stylish gaming mouse or keyboard. Finally, a new game will be a great present as well. Gamer girls dating means that you won't need to spend hours trying to find a perfect present among dresses or lipsticks.
Why Are They So Attractive?
A gamer girl is desired by any gamer in the community. They are not so focused on the usual women values (like choosing a perfect outfit or buying cosmetics). At the same time, they realize the importance of alone time and personal space. So, such a girl would become not only an understanding partner for you but also a dedicated sister-in-arms who would help you out in a complicated situation on the online battlefield.
So, How to Date a Gamer Girl?
As they say, it's not enough to just love your girlfriend to keep the flame between you two burning. Sometimes, inexperience and lack of emotional intelligence may play a terrible trick on guys, and the girl who was crazy in love and happier than ever may start holding grudges or even taking revenge.
So, even if your girlfriend is a gamer, making your relationship stable, trust-based, and solid is not a piece of cake. Below you can find five tips that'll help you achieve this.
Give her more love. It doesn't matter what interests your girlfriend has – any social creature (and we, humans, are social creatures) needs constant affirmation of love from their closest people. Your relationship shouldn't be an exception. So, even if you bomb enemies at the moment, don't forget to spare some time to give your partner a compliment or prepare a cup of tea for her.
Don't hesitate to invite her to play together. Being able to play with a worthy opponent is, perhaps, one of the main advantages of dating a gamer girl. On the other hand, it may turn out that your girlfriend is more powerful in her skills than you are. So, in this case, it is crucial for you not to try to dominate her in every party; instead, you can give her a compliment on her gaming skills – and maybe learn from her in the process.
Give her privacy and space. If you are a gamer, you must realize how crucial it can be to spend some time on your own. This is why there can be no doubt that your gamer girlfriend will also need some personal time and space. Even if you are a perfect match both in everyday life and in gaming, this can be no valid reason not to let her go somewhere to hang out with friends or spend some time on her own, in silence.
Be patient with her. Patience is, perhaps, one of the most frequent demands gamer girls make to their partners. The thing is, gamer girls can often be introverts that need to be inside of their shells for some time. So, in order to make them more open to you and more talkative in general, you'll need to dedicate some effort, time and a particular kind of non-persistent approach. If you don't, you may stumble upon a wall of misunderstandings and, in some cases, even aggression.
Treat her like a 'normal' girl. Keep in mind that a gamer girl is still a girl with all the usual girly needs and wishes. She also wants to hear compliments from you, walk around the city in the evening holding hands, get gifts for gamer girlfriend and be taken care of by you. So, try to avoid changing your behavior strategy to a ruder and less gentle one. All in all, keep in mind that she is your girlfriend and not just another friend.
How to Meet Gamer Girls
Lately, many guys striving to find gamer girlfriend meet such girls only within a game itself. Unfortunately, it often turns out that 'the true love' lives in another city or even country. So, instead, you can be smart about it and start looking for her in the places where you have a lot of chances to meet many gamer girls and where you can get to know them better before you meet offline. We've gathered some options on where to meet gamer girls for you.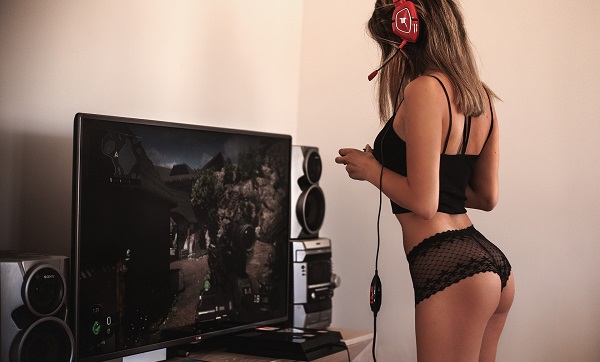 Online
Looking for gamer girls online is, perhaps, the most obvious option for lonely guys. Nevertheless, a meeting on the online battlefield rarely ends in a real relationship, as a girl you like may live hundreds of kilometers away from you. Besides, it's not a really sound idea to agree on a real-life meeting if you have no clue who's sitting on the other side.
So, to ensure your efforts result in the most predictable outcome, you better start looking on thematic forums (it's easier to start a conversation there) or on social networks (it's easier to see the girl's interests there). Alternatively, you can even start looking for gamer girlfriend on dating websites and apps. They are especially great as they require users to fill out detailed questionnaires to reveal their personality to other users in as many details as possible.
In real life
It's not a piece of cake to meet gamer chicks in real life, but it's still possible. The most obvious places for such a meeting are various events dedicated to video games, both formal and informal. The latter ones can be organized b several participants of a forum thread. One way or another, you should get totally ready to meet gamer girls properly. It's a misconception that gamer girls pay less attention to the appearance and manners of guys than their non-gamer counterparts.
Conclusion
There are plenty of gamer girls all over the world today. Nevertheless, meeting them in real life and start a relationship is big luck. Meeting them in a park or square is close to impossible – besides, there is no guarantee you'll see that this girl is a gamer (unless you ask, 'Are you a gamer girl?').
So, if you are interested in finding a gamer girlfriend, visit our website. There you can find thousands of recommendations on dating girls with a variety of interests and hobbies from different countries – they will help you establish a solid and reliable relationship with the girl you like.