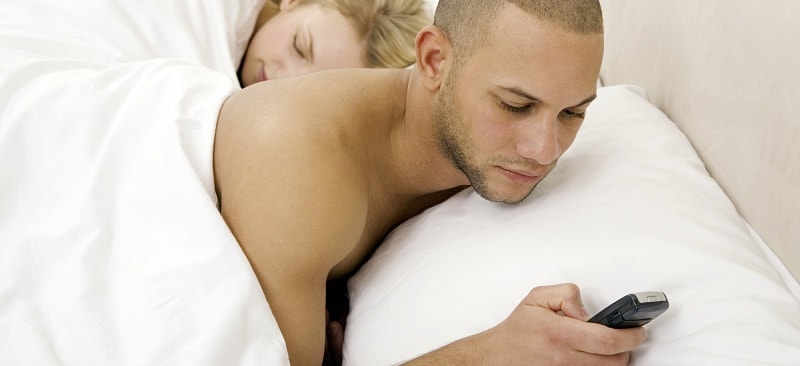 Nowadays, numerous online dating services allow people to hide some small affairs, romances, and sometimes even full-fledged relationships, not risking being caught in the act by their loved ones one day. On the other hand, most of these websites can't ensure that a cheater's secrets will never be uncovered, so they are not as reliable as people think.
In case if you have certain suspicions considering your loved one having a profile on one of dating services, there are a couple of tips to help you find out the truth. At first, you can inspect your partner's smartphone or tablet to see if there's a dating app installed, check the browser history, google some of his personal info, for example, you can find dating profiles by email address or the phone number. And the last but not least, you yourself can create an account on one of the popular services and try to look for your partner using its search engine. If you didn't find anything, this means that your partner doesn't have a profile, or hides it better than you think. In this case, you can turn to a professional investigator's help.
But let's look how to find out if someone has a dating profile more closely.
1) Look through your companion's browsing history
Here you need to know the most popular and common online dating services and apps. This way you can recognize one when checking your loved one's browsing history on his PC or smartphone. You can easily find a list of popular dating websites online, but here are the most common ones: eHarmony, Match.com, and OkCupid; check them first. Among dating apps, you can distinguish HAA, Vaulty Stocks, and, of course, Tinder. All these applications have become so much popular lately simply because they're convenient due to finding matches according to interests and location. The only problem of such services is that most of them don't show full information about the potential match. For instance, a dating app may hide a person's last name.
As for checking the partner's emails, the thing is that most online dating services send their users messages to confirm registration, notify about new updates and features, or simply to greet a new member. Of course, accessing an email account means getting access to a person's computer. In most cases, you're gonna need a password, but your companion might still be signed in; it all depends on your luck. Be sure to open only those letters that were read before. This way you avoid being compromised. And don't forget that entering some email accounts requires security check, during which a service sends a request on an account owner's phone. So be careful not to get caught.
2) Google your partner's pictures, phone number, email address
Another way to find husband's dating profile is to start googling his photos, email address, phone numbers, etc. Eventually, the profile can show up in search results. When choosing pictures for your search, it's better to pick ones from your loved one's profiles on social networks. If one of the photos has been used on one of the dating websites, there's a high probability that it will appear in search results.
3) Create your own profiles on a couple of services
Your significant other may be using info that you don't know. The only option, in this case, is creating profiles on each popular dating service and start looking for the partner according to his personal information and location. It's also a great way to find dating profiles.
Again, the thing is that most dating apps don't allow you to find a particular user via search; their matching algorithms are based on location and common interests. Sure, to make your search safer and easier, you need to alter your personal info and pick the interests suitable for your companion.
4) Consider using electronic surveillance
To find your husband's dating profile, you can try using mobile apps that track user's activity. You can easily find a couple of such apps as FlexiSpy online. You simply install the app on your partner's phone and see all his activity for a reasonable price, of course (which can reach $200 or even $300, depending on a variety of features). Just don't forget that such "tinkering" with someone's smartphone can be illegal and lead to pretty serious problems with the law. So think twice before doing it.
5) Track your partner's financial activity
Usually, signing up for membership on online dating services isn't free, so in case if your significant other has a profile on such website, you can find it out by checking his credit card bills or a bank account. This can be pretty easy if both of you have a joint account. Things will get a bit more difficult if your loved one has his own bank account. The chance of getting access to it online is very small, so consider looking for paper bank statements.
6) Professional investigators
And now, it's time to look at the ultimate method to find your husband's dating profile. If you suddenly got suspicions that your loved one is using one of the dating websites, the easiest way to find this out is see for yourself (we already described all the possible variants, so you only need to choose the most appropriate one). However, none of the methods may bring results; besides, not everyone has so much free time search for clues on their own. In this case, the last option that remains is turning to the help of a private investigator.
Well, that's about all you need to know about how to find your husband's dating profile. The only thing that hasn't been mentioned yet is what to do if you found one. We mean that depending on how you look at the situation, there may be nothing wrong with your loved one having a profile on a dating service. First, you don't know for how long it has been out there and if your spouse has been using it. Second, we are all curious about different stuff from time to time. Maybe he created an account just to check out how it works. In this case, having a different name in the profile can also be easily explained by different aspects, as shyness and such. So before getting mad at your significant other, start a simple conversation and let him explain everything.