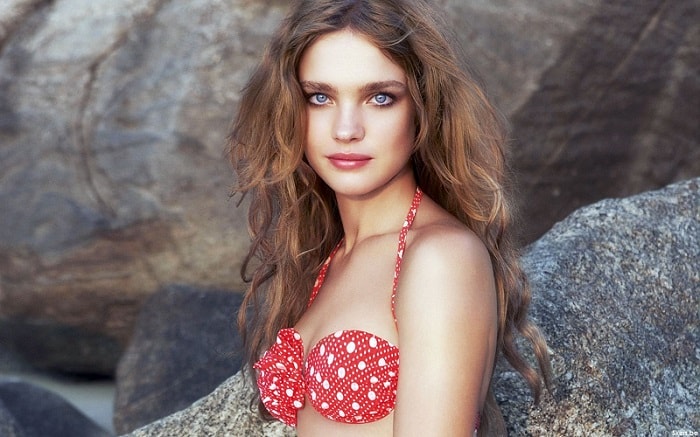 Any model, despite the neutral facial features, should have a certain set of qualities that distinguish her from other ladies, such as beautiful cheekbones, eyes, forehead, and expressive face oval. And Russian girls often have all of them at once. Every year Russian beauties debut in fashion shows. In this article, we collected ten most popular Slavic models of 2017. Enjoy these Russian beauties' images.
10) Valentina Zelyaeva
Valentina's career has always been successful, without any major leaps and turns. The girl was born in Buryatia, Russia. When she turned 7, she moved to Moscow with her parents, where a scout from the modeling agency noticed her. Some time after, Valya was invited to work in Japan. That's where she got on the international podium.
The number of fashion shows Valentina participated in reaches 50, including a lot of photo shoots for fashion magazines in Italy, the USA, and England. In 2014 Valya was included on the list of the most expensive models. Zelyaeva participated in advertising campaigns for Água de Coco, Balenciaga, BCBG, Calvin Klein, Calvin Klein jeans, Coach, Cole Haan, ICB; took part in fashion shows of almost all famous designers and fashion houses, such as Alberta Ferretti, Alexander McQueen, Balmain, Blumarine, Chanel, Christian Dior, Christian Lacroix, Dolce & Gabbana, Elie Saab, Emilio Pucci, Gianfranco Ferre, Givenchy, John Galliano, Kenzo, Lanvin, Louis Vuitton, Versace, and many others. Also, the girl is included on the list of the 12 sexiest Russian models of all time.
9) Vlada Roslyakova
The girl's real name is Elena, but after coming to the modeling business, she changed it to Vlada (her father's name is Vladimir). Like many models, Vlada got into this business by accident.
Vlada was born in Siberia, in the city of Omsk, on July 8, 1987. The beginning of her modeling career came at the times when girls of unusual appearance became popular. Vlada's angelic face with large beautiful blue eyes and a small sensual mouth perfectly fitted the needs of fashion houses at that time.
During preparations for entrance exams to the university, Vlada met a girl who advised her to send her photos to the modeling agency, that's how her career began. Now Vlada is a popular model and a representative of many brands. She worked with Dolce & Gabbana, Hermes, Nina Ricci, Miss Sixty, and others. This beauty deserves her spot on our rating of Russian women in bikini.
8) Katya Grigorieva
The next picture on the list of Russian beauties photos belongs to Katerina Grigorieva. This beauty was born in Russia, in 1989 and grew up in a friendly family. Parents paid much attention to Katya's education. The girl was professionally engaged in dances, which helped her in the modeling business.
Although Katya's first attempt to become a model was successful, she started her career only a few years later, after graduating and acquiring professional skills. One of Katya's main victories is the status of Victoria's Secret angel.
Katya continues to improve her professional skills and is not afraid to ask advice other models for advice. Only in 2015 alone, she participated in more than 30 fashion shows, and this is only the beginning of her career.
7) Anna Selezneva
The future top model Anna Selezneva was born on July 29, 1990, in Moscow. Since her early childhood, Anna dreamed of the modeling business, but her parents didn't share her dreams, wanting her to get a university education first. Her life dramatically changed when she got noticed by a model agent in a cafe. Anya decided to accept his offer and went to Paris a few months after.
Anya is actively engaged in advertising and photo shoots for magazines. In 2014, her photos were published in Vogue Russia. By 2017, Anna managed to take part in the photo shoot for the Mixt Magazine, and also took part in the advertising campaigns for Guerlain, Calvin Klein, Yves Saint Laurent, Emporio Armani, Ralph Lauren, Versace, and Vera Wang.
6) Daria Strokous
The next girl from the list of Russian bikini models is Daria Strokous. Daria's father worked as a diplomat, and her family was sent to Benin. Dasha grew up as a versatile and talented person; she always wanted to be on stage. After a high school graduation, she chose a journalist's career. During her studies, Daria decided to try modeling business.
As well as many models, she was accidentally noticed by a representative of a well-known model agency. Daria believed that her outward attractiveness would allow her to become a famous and recognizable face on the covers of glossy magazines.
In 2007, the world saw Daria. Due to her unusual appearance, Dolce & Gabbana, Alexander McQueen, Gucci, Alexander Wang, and other leading brands noticed her.
5) Natalya Vodianova
The fifths place in the rating of Russian girls in bikini goes to Natalia Vodianova. Natalia wanted to become a model since early childhood: she studied English, took part in various contests, and one day she was noticed by a foreign model agency.
Her debut happened in France, and then the girl began receiving offers from famous brands. Natalia finds time to participate in fashion shows, photo shoots for magazines, appear in films, and attend social events.
Natalia is the mother of five beautiful kids. But despite that, in 2017, she continues her modeling career and is engaged in charity work, but she tries to spend every free moment with her family.
4) Sasha Luss
Sasha Luss is a Russian model whose success story resembles a fairy tale. As a child, she couldn't even think about becoming one of the most popular models of our time. Now she works with the best world brands, among which are Lanvin, Chanel, Valentino, and Dior.
Sasha's childhood passed in the city of Magadan, where the girl was actively engaged in dancing and ballet. At one of the local beauty contests, she was noticed by a model agency scout. Sasha started working in Moscow gradually growing up to signing a contract with Chanel. Since that time, we can see Sasha on the catwalk, as a representative of many branded goods, as well as in glossy magazines.
3) Sasha Pivovarova
Sasha Pivovarova is not just another typical model. This girl has become many designers' favorite, working with Prada for six years in a row, which is a record. And photographers are simply crazy about her extraordinary appearance.
Alexandra's story is unusual in all respects. The girl never dreamed about modeling career; she was fond of arts and drawing instead. Upon entering the university, Sasha met her future husband, a Russian photographer Igor Vishnyakov.
It was her husband who made a series of photos and sent them to the modeling agency, which gave Sasha the green light to participate in Prada shows. Since then, Sasha was noticed by a lot of brands, including Gucci, Zac Pozen, Ralph Lauren, and others. Besides, the girl represents well-known lines of cosmetics and ornaments and draws prints for GAP. She's a perfect addition to the list of Russian women in bikinis.
2) Natasha Poly
Natasha Poly is one of the brightest models of her generation. She is admired by many recognized couturiers. Famous photographers dream of working with her. Today Natalia is at the zenith of fame and firmly holds the title of one of the most popular models of Russia.
Natalia Polevshchikova was born in 1985 in Perm. Later, already having achieved the first success, the girl comes up with the nickname Natasha Poly. Natalia's first modeling experience was at the age of 15 when the girl first took part in the beauty contest.
Although the girl didn't win, she attracted the attention of several representatives of the modeling business. Natalia's career went uphill even before high school graduation.
1) Irina Shayk
Irina is a model of an international level. Thanks to her luxurious appearance and perseverance, the girl became famous around the world, conquering both the famous footballer Cristiano Ronaldo's and Hollywood actor Bradley Cooper's hearts. And these achievements only bring her to the first place among Russian bikini babes.
Irina amazes with her unusual appearance. She was born near Chelyabinsk, Russia, in a small town. Irina had an ordinary childhood. After leaving school, the girl moved to Chelyabinsk, and it was there that a scout saw her right on the city street.
Ira began to participate in competitions, and the glory of her quickly spread around the world. Since 2005 and up to this day Irina has been on many magazine covers and participating in various fashion weeks.