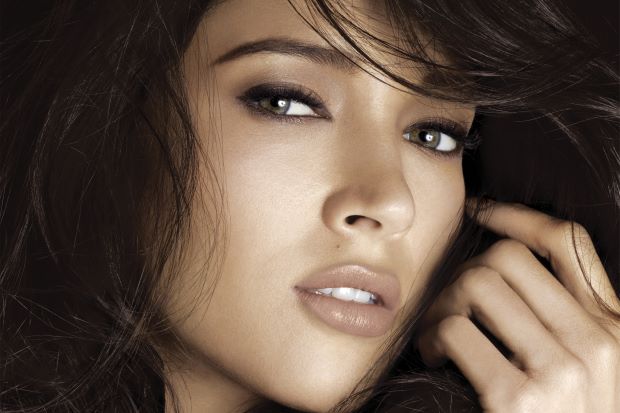 There is something special about Mexican women. To get an impression of hot Mexican beauty, just remember the famous Salma Hayek's dance in the 1996 movie From Dusk Till Dawn. Choosing twenty girls among such beauties was incredibly difficult. Here are just a few Mexican models we had to consider before picking one: Elsa Benitez, Ninel Conde, Lorena Herrera, and Barbara Mori. But despite the complexity of the task set before us, we made up a list of Top 20 beautiful Mexican girls.
20) Adriana Fonseca
Adriana Fonseca is a Mexican actress and model. This beauty is famous for the main role in "Corazón Valiente" (Fearless Heart) TV series. Adriana was born on March 16, 1979, in Veracruz, Mexico. Adriana's acting career began with participation in the Mexican TV show. At the age of 16, she entered Centro de Education Artistica theater school. In 1997, the girl won the Mexican "El Rostro del Heraldo" beauty contest. From 2012 to 2013, Adriana played the main role in "Corazón Valiente."
19) Blanca Soto
This sexy Mexican girl is Blanca Soto, an actress, model, and former beauty queen. In 1997, Soto won the "Nuestra Belleza México" beauty contest, and the same year she represented her country at the "Miss World" contest. Her acting career started in 2007 with the short film "La vida Blanca." This role brought her an award at the New York International Festival of Independent Cinema.
18) Vanessa Villela
Latin American actress Vanessa Villela was born on January 28, 1978, in Mexico City. The girl studied at the CEA Televisa and CEFAT TvAztec acting schools. Vanessa began her acting career in her teenage years. Traditionally, she gets to play only negative heroines, but her stunning beauty together with great talent will someday bring her a lot of great roles in TV shows.
17) Paola Nunez
Paola Nunez was born on April 8, 1978, in Tijuana, Mexico. Just like Vanessa Villela, she began her acting career with studying at CEFAT. At the age of 12 Paola participated in theatrical performances; from the age of 16, she began working on television. In 2007, this Mexican girl's photos appeared in GQ magazine. Paola gained popularity after playing Barbara in the Mexican remake of the Argentine TV series "Amor en custodia."
16) Maite Perroni
Maite Perroni is a Mexican actress and singer. The girl has two younger brothers – Adolfo and Francisco. Maite's family moved to Guadalajara when the girl was about a year old. That's where she grew up. When she was 12, Maite's family returned to Mexico City, where she began her acting career. Her beauty brings her sixteenth place in our list of Mexican weather girls.
15) Jacqueline Bracamontes
Jacqueline Bracamontes van Orde was born December 23, 1979, in Guadalajara, Mexico, to the family of football coach Jesús Bracamontes and his wife, Jacqueline van Orde. Jacqueline has a younger sister and brother – Alina Bracamontes and Jesus Bracamontes, Jr. After graduating from high school, Jacqueline moved to France, where she studied French, and then returned to Mexico to study communication sciences at the Instituto Tecnológico de Estudios Superiores de Occidente. During the studies, Bracamontes began the modeling career. She speaks Spanish, English, and French.
14) Itati Cantoral
Itati Cantoral is a Mexican actress. She was born May 13, 1975, in Mexico City to the family of a musician Roberto Cantoral. Itati made her debut on the TV screen in 1986, starring in the TV series "La telaraña." In total, Cantoral starred in 33 movies and television series. She is also a producer.
13) Angelica Rivera
Angelika is an actress, singer, and wife of the Mexican President, Enrique Peña Nieta. Angelika was born and raised in a large family (she has 1 brother and 5 sisters). Her acting career began at age 17 when she won a local contest and became a model for TV commercials. In 2010 Angelica married Enrique Peña, the governor of the state of Mexico City, who became the president of Mexico in 2012.
12) Sandra Echeverría
Sandra is a Mexican actress and singer. She was born on December 11, 1984, in Mexico City. In 2002, she starred in the television series "Súbete a mi moto." In 2004, she played one of the main roles of the second season of the series "Soñarás." In 2006, Sandra starred in the telenovela "Marina." In 2010, the girl received a major role in the science fiction film "2033." Also, the actress voiced the role of Claudia in the cartoon "The Book of Life" (2014) and Mary in "The Secret Life of Pets" (2016).
11) Marlene Favela
Marlene Favela is an actress of Spanish, Lebanese, and Mexican origin. Since her childhood, Marlene dreamed of becoming famous, but her path to fame wasn't easy. She moved to Mexico City to study law, where she met a producer and became a model. Then Marlene received a scholarship to study acting. Marlene made her first steps on television as a co-host of the TV show called "Camaron que se duerme," while appearing in episodic roles in TV series. Everything changed in 2002 when Marlene got the main role in the telenovela "Gata Salvaje" (Wild Cat).
10) Camila Sodi
The next pretty from the list of naked Mexican girls is also an actress. Camila Sodi was born on May 14, 1986, in Mexico City; apart from acting, she is also engaged in modeling. Camila is quite successful in her profession, but now she is busy with raising her children. From 2008 to 2013, Camila was married to a Mexican actor Diego Luna.
9) Paulina Rubio
Paulina Rubio Susana Dosamantes, better known as Paulina Rubio, is a Mexican singer, actress, model, and entrepreneur. She is known in Mexico and the Ibero-American countries as a member of the pop music group called "Timbiriche."
8) Carolina Teixeira
This hot Mexican girl is an actress. Carolina's father is a Mexican, and her mother is a Spaniard. She was born in Venezuela, where she made her debut in 2006 in the television series "Volver a Vivir." She also starred in the popular TV series "Gata Salvaje." In 2010, Carolina began working with Telemundo Studios, a TV studio in Miami. She appeared in such soap operas as "Aurora" and "Corazon Valiente." Carolina is married to a Costa Rican businessman Don Stockwell.
7) Ninel Conde
One of the most famous hot Mexican girls, Ninel Conde, is a top model. Apart from being incredibly beautiful and sexy, she is also a successful Mexican singer and actress. In other words, besides her innate beauty, she has many more diverse talents. As an actress, she is known for her roles in "Rebelde" and "Mar De Amor" TV series. Ninel debuted as a singer in 2003, releasing a single called "Callados." Ninel's TV debut took place in 2004 in the reality show "Big Brother VIP," but it was "Rebelde" that made Ninel Conde famous not only in Mexico, but also in Chile, Colombia, Romania, Croatia, Brazil, Peru, and Spain.
6) Mariana Bayon
Mariana is the most famous winner of the first season of "Mexico's Next Top Model." Mariana had a difficult childhood. When she was 8, her 10-year-old sister Maria Rosa died of cancer, and her parents divorced six months later. Before participating in "Mexico's Next Top Model," Bayon worked as a model in her home town of Torreon. She is an inveterate football fan. After winning the contest, Mariana was shot for the cover of Glamor Mexico.
5) Selena Gomez
Actress and singer Selena Gomez was born in Grand Prairie, Texas, in 1992. Her father is of Mexican descent, and her mother has Italian roots. Selena debuted on television when she was only seven years old, having appeared in the TV show "Barney and Friends." She also starred in the movie "Spy Kids-3: Game Over" and in the TV show "Walker, Texas Ranger: Trial by Fire." Selena also created her own pop group called "Selena Gomez & the Scene" that released the hit "Love You Like a Love Song."
4) Thalia
Ariadne Thalia Sodi Miranda is an entrepreneur, songwriter, actress, and singer, who sings in Spanish, English, Portuguese, French, and Tagalog. Most of the media consider her the "Queen of Latin Pop." British tabloid The Sun called her one of the "50 singers who will never be forgotten," and in 2011 Terra Networks included her in the list of "the most influential and significant women in music." Thalia was also nominated for various Latin Grammys and received many other awards throughout her career. She is a great addition to the list of pretty Mexican girls.
3) Ximena Navarrete
Ximena Navarrete is an actress and model who started her career with a victory in the world beauty contest. After she won the "Nuestra Belleza" contest in Mexico in 2009, she won the "Miss Universe" title in 2010. She became the official face of such brands as L'Oreal Paris and Old Navy. Ximena also starred in the television series "Enor de los Cieolo."
2) Jessica Alba
Jessica Marie Alba is an American television actress, model, and a sex symbol. She was born in Pomona, California. Her mother is of Danish-French-Canadian origin, and father has Spanish-Mexican roots. She began her television career at the age of 13. Jessica starred in the television series "The Dark Angel;" for this role, she was nominated for the Golden Globe. She rightfully belongs to the list of the sexiest and most desirable Mexican women.
1) Salma Hayek
This famous and sexy Mexican girl debuted as an actress in 1989 in the telenovela "Theresa." She also starred in the famous Mexican movie "The Alley of Miracles." For her roles, she won the Ariel Award. Then she moved to Hollywood, where she learned English and got rid of dyslexia to star in the movie "Desperado" with Antonio Banderas. Salma was nominated for an Oscar for her lead role in the movie "Frida." For her unfading beauty and sexuality, she earns the first place on our list.